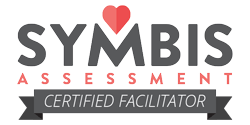 Dr. Shawn is a Certified SYMBIS Facilitator. Premarital counseling can help you save your marriage before it starts. Did you know that couples with SYMBIS premarital counseling have a 31% less chance of divorce? SYMBIS couples also experience 30% more success and fulfillment than couples without premarital counseling.
Every marriage relationship is unprecedented. Every couple is unique. There has never been a marriage like the one you are about to start. When two personalities come together, the combination of their dynamics creates a unique blend of characteristics and qualities. The better you understand your combination of traits, the more likely you are to appreciate them and use them to strengthen your marriage.
Get your marriage off to the great start it deserves. Invest in your relationship and create a love that will stand the test of time.
Learn each others love language
Uncover the misbeliefs of marriage
Obtain a clear picture of your personal and relational momentum for marriage
Learn to communicate with instant understanding
Learn to think together, not as individuals
Discover the secret to resolving conflict
Understand and discuss your own personal hot topics (identified by the SYMBIS assessment tool) to avoid future conflict
Learn new skills to strengthen your relationship for a life-long love
Gain insight into your personalities and how they work together
Understand the gender-specific needs of your spouse and how they evolve over time
Get on the same financial page to secure your financial future
Cultivate deeper intimacy and passion for a lifetime of pleasure and fulfillment
Second marriage, or blending a family, we can help
And much more!
Over a million couples have used this award-winning system. Start preparing for a strong and passionate marriage today, it is one of the most important things you will ever do.
Get started today by contacting Dr. Shawn for instructions to take the SYMBIS assessment followed by 3-4 50 minute sessions that will help save your marriage before it starts.  Click Get Started below.